The Gymea Bay Dragons!!!, It just doesn't sound right, but that was the name originally bandied about in the late 1950's.  The "Greatest Game of All" was growing and expanding into the Sutherland Shire.  In 1959 the St. George District Club controlled both the St George and Sutherland-Cronulla Junior Rugby League.  Numerous former and current St George players were now living in the shire and they were looking for a team for their boys to play with.  The St George District club was keen to further capitalise on the potential of the Shire.  As such they appointed LANCE HANDLEY as the delegate for Sutherland-Cronulla to the St George District club and as such he took up the position on the District club committee.
The game was very popular with the school kids at Gymea Bay, Public School where it was played during lunch and recess and also on Friday afternoons against other shire schools.  The popularity at the school was the catalyst for the formation of the first "Gymea" team to play in the local junior league competition on Saturday mornings.
In 1960 LAURIE O'NEIL, the sports master at Gymea Bay coached two teams in the schools competition.  He considered that extra match practice would benefit these teams in their school competition.  He went to a Sutherland-Cronulla meeting and asked for some assistance in this regard.  The school principal VIC SPONBERG, a keen Rugby League supporter, put his weight behind the idea and the Junior League agreed to his request. As such Gymea Bay entered a composite of these sides in the Junior League Saturday morning competition in the 5 stone 7 grade.  This team as the "Gymea Bay Primary School" banner and were known as the "Gymea Bay Dragons".  They played in a jumper that was plain green and a red plastic dragon on them.  ALAN FREER was the first player to register with Gymea and others in the side included brothers Emanuel and Angelo NICHOLSON, Les CARRICK, Howard GRANT, Alan (PORKY) GRAY, Johnny OGIER, Ken GOYEN, Colin THORN, John RICH, Merv BARTLETT and Bob BAKER.  Of this team Sutherland-Cronulla Junior League Year Book predicted that the new club "should develop into a good team".  The team later played in the original strip of a green jumper and white V.
In 1961 the same Gymea Bay Primary School team competed in the Junior League competition. The team was handicapped by insufficient numbers that resulted in drawing upon younger and lighter players.
In this significant year a rugby League Club affiliated with the Gymea Bay Sports Club entered four teams in the Cronulla Junior competition.  The club was known as the Gymea Bay JRLFC.  In this era team were graded by weight and Gymea was represented by the 4 stone/7 ounce. 5 st/7's, 6 St/7's and an open weight under 14 years team. There were a total of 51 players registered with the club.  The first home ground was Gymea Bay oval.
On 28 February, 1962 the first ever general meeting of the "Gymea Bay Junior Rugby League Club" was held at the home of Mr and Mrs Carrick at 68 Arcadia Ave, Gymea Bay. The following office bearers were elected.
President – Mr W. CARRICK
Vice President – Mrs HUME
Secretary – Mrs BURGESS
Assistant Secretary – Mr BURGESS
Patron –  Mr Vic SPONBERG, Principal of Gymea Bay Primary School.
On 17 March 1962 the first registration day was held and the above teams were formed.
On 18July 1962 a meeting took place that culminated in the breaking away from the Gymea Bay Sports Club.  This course of action was on the insistence of Ron HATHAWAY, Tim ALLEN and Lance Handley and it is said that these men brought about the formation of the "Gymea Junior Rugby League Football Club".  Perc GRANT and George HUME were the delegates to the Junior League.
In November 1962 the club's first constitution was presented and accepted unanimously and, barring a few alterations, exists in the same for today.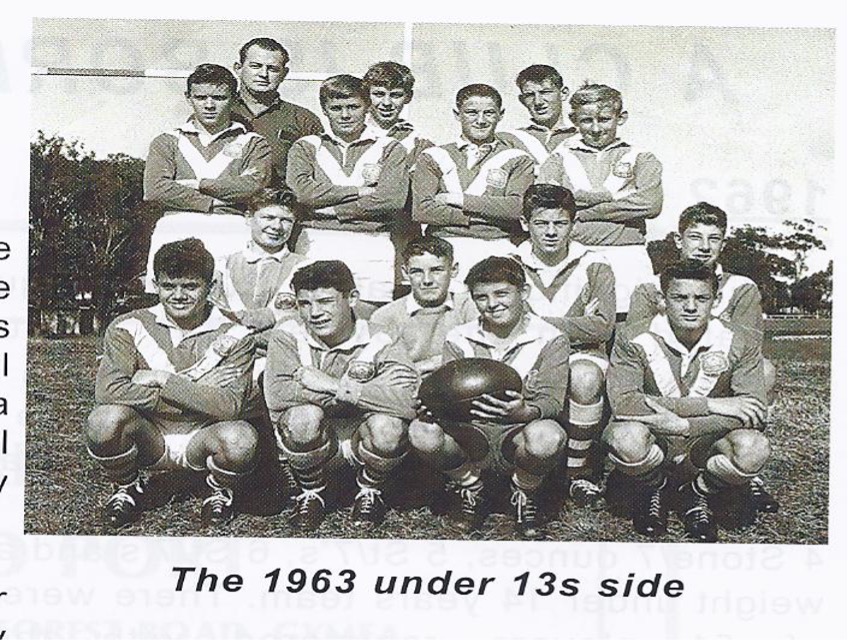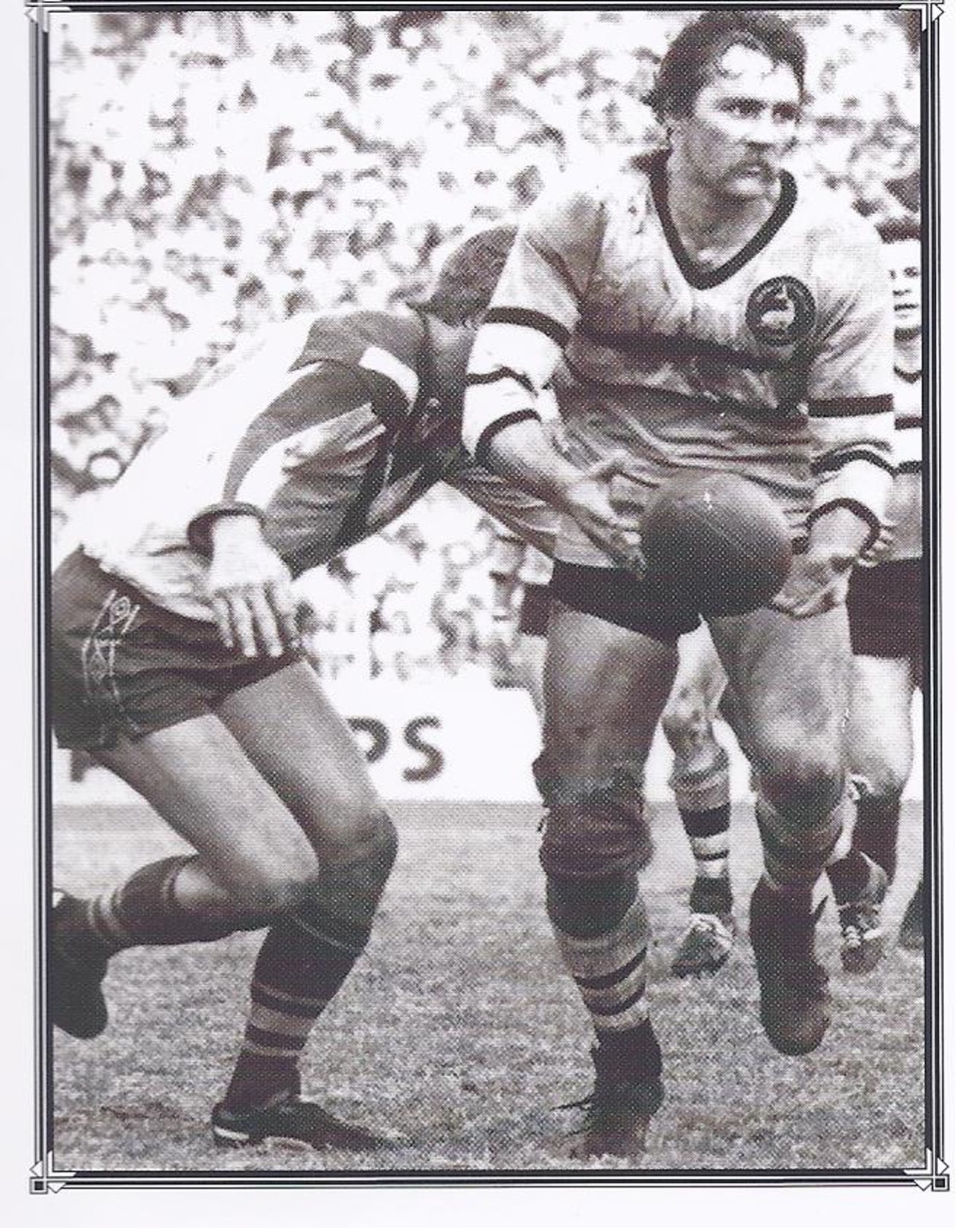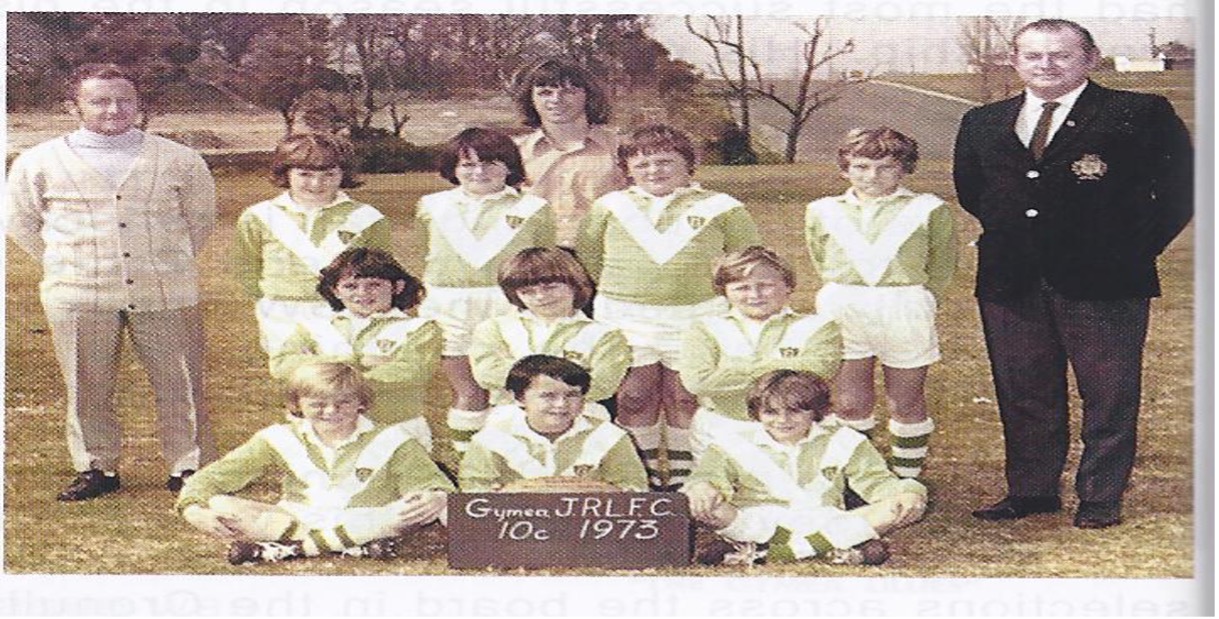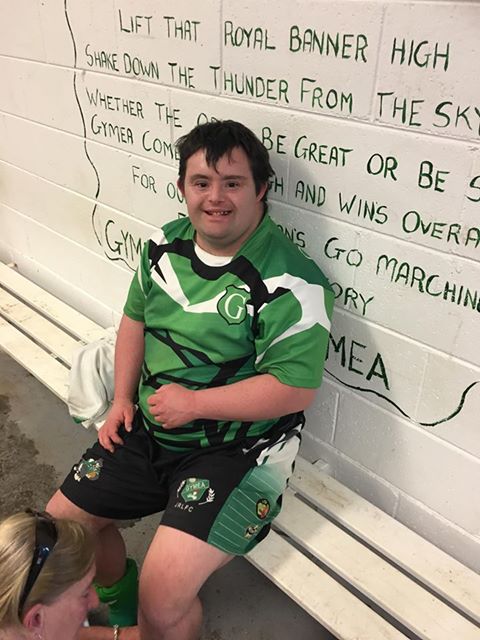 Early Days Remembered
By Ron McInnes
The annual meeting in 1963 was held in the old hall at Gymea Bay Oval and was attended by 15 people.  The President elected that night was Ron Hathaway, a former referee in the Newtown District.
It was decided to enter four teams in competitions but there was a small problem – we only had 10 pounds in the bank.  In those years, the club supplied jumpers, shorts, socks and boots at a total cost, from NSW Sports store, of 60 pounds.  This problem was resolved by six members guaranteeing 10 pounds each in case of default – a substantial sum in those days.
This was the year that Greg Pierce joined our club.  Greg lived in Marrickville and was residentially qualified to play in the Newtown District only, but with weight competition, at the age of 13 he would have been playing against some boys who were 17 years old.
As Cronulla had adopted age competition only, his father sent him to Gymea and used his grandmother's address for registration purposes.  Greg attended Sydney Technical High School at Hurstville and travelled by train to Gymea for training.  At the end of the night, he was put on a train back to Tempe, where his father picked him up from the station.  His mother drove him to matches.
This went on for four years, until Greg purchased a motorbike.  He was truly a dedicated footballer who reached the ultimate level by captaining his country in his chosen sport.
Milestone games are celebrated at Gymea. We are proud of the past and present players who have have achieved 200 games and more.
This honored group of players are known as the "Zoo club".
Yet a handful of these honored players have gone on to play 300 games with our club .
They are all a treasured part of our history.
You can see all these players photos prominently displayed in our clubhouse
Expand the 200 and 300 game sections to see their names
200 Game Players
David McINNESS
Neale HOLMAN
Chris HATCH   
Steve RILEY   
Mick HUGHES
Rod FITZGERALD  
Mark GLASS
Jeff CANAVAN  
Matt HEENAN
Peter HADFEILD
Dave OLLERENSHAW
Glen STEELE   
Grant DAVIDSON
Colin WHITTIKER  
John LINTMEIJER
Craig MARTIN
 Mick CLEMENTS
Grant ROBSON
Russell GODFREY  
Paul McCORMACK   
Todd STEELE
Mick MARTON
Wayne ENGLISH  
Paul HAZLEWOOD
Zane JAMIESON  
Matt FEARNLEY
Mick PHILLIPS
Rohan MILNE   
Cameron TRACEY
Nathan WYNN   
Lloyd SPELTA  
Adam LINTMEIJER 
Luke PHILLIPS   
Rod BATCHELOR
Dean MCNAMARA
Nathan PEKE  
Scott BROWN   
Grant OLDROYD
Jason GREEN
Andrew "Nugget" HOUSTON    
Mark BRENTON   
Mitchell WYNN
Barton IRVING
Jhi HOLMES
Corey WILLIS  
Hayden O'GRADY
Rhys LAMERTON
Jack ALLEN
Logan O'Grady
Jamie SMITH
Ryan WILLIS
Matthew NICHOLAS
Jayke CHILDERHOUSE
Dave OLLERNSHAW
Zachary HUGHES
Joel ALMOND
Liam FLETCHER
Levi MCLEAN
Kerrod WARD
Lachlan COFFEY
Patrick MCLAUGHLIN
Jack Somerfield
Rhys Ward
Beau MCLEAN
Bailey WOOD
Reece MAWSON
Adam MORTLOCK
Ahmed ALAMEDDINE
James BANNISTER
Matthew SMITH
Kieran HABOJAN
Mark CHANDLER
Kyle JOHNSON
Andrew CHANDLER
300 Game Players
Glen "Boxhead" HAZLEWOOD
Russell "Garbo" GODFREY
Corey Williams
Daniel Rehmie
Jackson Heenan
In 2012, the Gymea JRLFC played our 50th season. This team was determined the best players to ever have pulled on the green and white Jersey. Cheer, Cheer.
Full Back – Mitch BROWN. Mitch was a former Mini, Mod, and Junior Club Champion at Gymea. He was an Australian Schoolboy representative in 2005 and has been an NRL 1st Grader with Cronulla, Wests Tigers, and Canterbury Bulldogs since 2006. Currently, Mitch is our only NRL representative.
Winger – Brett HOWLAND. Brett was a former Gymea Junior Club Champion. He was graded with Cronulla in 1996 and went onto play 10 years of NRL Football with Cronulla, Canterbury and Penrith. He played for Penrith in 2004 World Club Challenge against Bradford in England in 2004. He returned to Gymea in 2007 and was a member of the 2007 A Grade Premiership winning team. 
Centre – Jess CAINE. Jess was aformer Mod and Junior Club Champion at the Gorillas. He was Cronulla SG Ball Player of the year in 2002 before earning selection in the Australian U/19 team that played New Zealand. He was graded at South Sydney in 2003 and played regular 1st Grade before sustaining an injury.
Centre – Johnny O'CONNER. John was a former Cronulla SG Ball and Jersey Flegg 'Player of the Year' in 1980 and 1981. He was also the recipient of the 'Greg Pierce' Trophy as the Cronulla Junior Representative Player of the Year in 1981. He was graded with the Sharks in 1983 and played NRL between 1983 ad 1988.
Winger – John LINTMEIJER. John played over 200 games for Gymea. He represented Sydney and NSW U/17's in 1989. He was graded with Souths in 1992 and played NRL in 1992 and 1993 before moving to Wests in 1994.
Five Eight – Greg NIXON. Greg played 12 years at the Gorillas before being graded with Souths in 1980. He was the Captain of their premiership winning U/23 team  that year. He later played 1st Grade at Souths before moving back to the Sharks in 1982, and playing NRL until 1988. He was 1st Grade captain in 1984 and represented City against Country in 1987.
Half back – Mark WAKEFIELD. Markwas Best and Fairest in SG Ball in both 1977 and 1978. He was graded with the Sharks in 1981 and was the regular NRL half back until 1987. Mark had lengthy period sin both England and France. He also twice. represented NSW at Schoolboy level
Reserve – Darren COLES. (Hooker/Backrower)Hard as nails. Darren was Gymea Senior Club Champion in 1980 and 1983. He was Captain Coach of the U/23s in 1983 and 1984. He remains only the 2nd Cronulla Junior to have been awarded the prestigious 'Harold Mathews Medal' which he earned in 1980. He was graded at the Sharks between 1981 and 1986 and played 1st Grade. He later took up Captain Coach roles in the strong Illawarra and Newcastle competition. Darren played 199 games for Gymea.
Reserve – Mick CLEMENTS (Centre/Backrower). Mick was Senior Club Champion in 1986 and 1988 and was A Grade Captain in 1987 and 1988 and played over 200 games for Gymea. He was graded with Cronulla in 1982 and later played for Thirroul in the Wollongong Competition.
Lock – Greg PIERCE (Captain). It has all been said about this Champion. He was graded at Cronulla in 1968 and remained as their longest serving player until 1980. He was the Sharks Captain for most of that period. He represented City, NSW and Australia in Test Matches and World Cups. He was Test captain in 1978 and Vice Captain of the 1978 Kangaroos. A truly outstanding Gorilla.
2nd Row – Steve HARDY. Steve was the Senior Club Champion in 1979. In the same year he was the Captain of the Australian Schoolboys Team that toured England and France.  He was graded at the Sharks in 1980 and was a regular 1st Grader until he moved onto the Roosters in 1984 and played over a 100 1st grade games. 
2nd Row – David HATCH. 'Danga' commenced his career at Gymea in 1966 and remained until 1978 when he was graded at the Sharks. In his first year in grade he sat on the bench for the infamous 1978 Grand Final against Manly. He was the Cronulla Captain between 1985 and 1990 and was selected as the 'Dally M Captain of the Year' in 1988. He was selected in the Australian Team that Toured Papua New Guinea in 1985. David played 188 games for the Sharks.
Front Row – Gus JANSEN. Gus represented NSW at Schoolboy level in 1978 and 1979 and was graded with the Sharks in 1980 where he remained until 1985. Gus then played two seasons with Valleys in the Brisbane Competition. He returned to Gymea in 1990 and was a member of the premiership winning A Grade side that year.
Hooker – Glenn STEELE. Glenn has played over 200 games for Gymea. He was the Presidents Cup Best and Fairest recipient in 1984 before being graded with the Sharks that same year. He played 1st Grade that same year. He remained at the Sharks until 1987 before moving south to the Illawarra Steelers and playing 1st grade.
Front Row – John ABBOTT. John was the Captain of Gymea's undefeated C Grade side in 1977. In the same year he played Presidents Cup with the Sharks and was the first Shark player to be awarded the prestigious 'Harold Mathews Medal' as the Best Player in this entire competition. He was contracted to Norths in the Brisbane Competition but injury curtailed his career. He later returned to Gymea and was the corner stone of many an A Grade and B Grade team.
Reserve – Craig TRACEY (Hooker). Craig played over 100 games for Gymea and was the Junior Club Champion in 1976. He was Captain of the State Primary Schools team before representing NSW and Australia U/18's in 1982. He was graded with the Sharks in 1983 and remained there until 1988.
Reserve – Steve CANAVAN (Full Back/Centre). Steve played over 100 games Gymea and was Junior Club Champion in 1971 and 1973. He was member of the premiership winning Sharks Harold Mathews team in 1973 and was graded with the Sharks in 1977. He later played for Dapto in the Wollongong Competition.
Coach – Bill ANDERSON – Bill won premierships at Gymea in 1973 and 1974. His 1974 U/14A's won the State Championship and were deemed the best team in NSW. He was selected as the Roosters U/23 Coach under Jack Gibson in 1976 and won the premiership at his 1st attempt. He coached the Rabbitohs 1st Grade team between 1980 and 1982 when they were semi finalists and 'Tooth Cup' Champions.  He coached the Balmain Tigers to a semi final birth in 1987
Ball Boy – Brett McNAMARA, Brett has over 200 games as a ball Boy with the Gorillas. He is always dependable and capable of 'revving up ' the players when needed. The highlight of Brett's career was being selected at the Gorilla Ball Boy to the U/14's that travelled to England and Scotland in 2004. His skills were noted by our English Rugby League cousins.  He is the only Ball Boy in the Cronulla